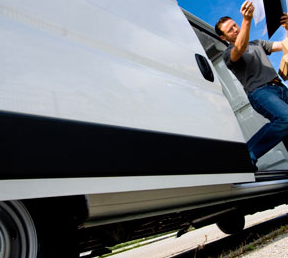 Manage your fleet

anywhere at any time
Track your vehicles in real time on the map via internet, iPhone, SMS, with details on vehicle status, speeds, addresses, etc.
Create your own accounts in the system. Prevent theft by activating/deactivating vehicle engine start … on ATK ™ Web
Check traffic conditions in real time and view the vehicle's location with real satellite images.
Manage your points of interest on the map such as residential locations, customers, warehouses …
Complete set of printable reports. Detailed analysis of the entire fleet. Detailed reports per day and per vehicle. Mileage and driving time reports, enhanced with detailed addresses of each start / stop point. Loading/offloading reports, time and duration or duration of work by your staff on your customers' sites. Reports of the road path and detailed routes.
With various customizable alerts, WEB ATK provides some of the most powerful alerting features in the industry to highlight tracking data. The SOS call function, SMS text message tracking, the 24/7 security services help alert button (Surveillance Dispatching) can be programmed.
ATK™ data is transmitted over the mobile wireless network allowing ATK to deliver a pan-European service. The 3G network uses the global GSM standard for wireless broadband communication. This network uses SIM cards and encryption features to keep data secure. The wireless network allows our customers to access ATK Web anytime and anywhere.
Instant image capture via the on-board camera.
Transmission of messages by the driver or the fleet.
Read confirmation
Ask yes/no.
Receipt of real-time delivery notifications.
Filtering of messages by the driver.
Visualize and be notified near important and prohibited points of interest. Easily maintain your areas of interest with the import and export of points of interest and categories.